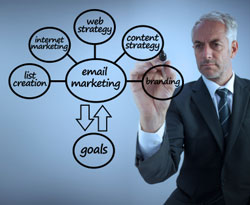 Change has long been the only constant in a world filled with technological innovations and adaptations. Marketers have grown accustomed to learning how to use new tools. Navigating new channels is part of everyday life. Rules are defined and then discarded when they become obsolete. The ability to adapt the company's digital marketing strategy to fit the current marketplace is a mandatory skill.
Today's change is different from past evolutions. Adapting marketing strategies won't keep your company competitive. The digital marketing model has to be reworked from the ground up. Anything less will put your company in the position of playing catch up to the leaders. And, catching up is close to impossible because success requires interdepartmental cooperation. For some companies, the corporate culture has to be changed to make departments work together. It won't happen overnight.
Third parties directly influence online success. Companies with marketers that know how to use search engine optimization to attract natural traffic, email to motivate people to respond to promotions, and social media to get people engaged in the brand experience have a competitive advantage. Lower cost for revenue generation increases profits and the unilateral approach creates more exposure. Using the third parties well keeps marketing messages in front of customers and prospects.
Marketing requires interaction with individuals. What works for one company may fail another. While establishing definitive rules is impossible, there are general rules that can be applied and adapted. These make up the rules of engagement marketers have been using to create strategy. Recent moves by third parties in search, email, and social media are making the rules that worked in the past obsolete.
Google continues its efforts to improve the user experience with major changes to the search algorithm and Gmail's interface. Search is looking more at the context than the keywords to deliver results that are more precise. Gmail is helping people manage their inbox by automatically sorting incoming messages.
Yahoo and Microsoft are reclaiming and redistributing email addresses. The move began last summer when Yahoo announced the release of dormant email addresses for others to claim. Microsoft recently followed with a similar announcement.
Facebook recently changed its news feed algorithm to reward what the company identifies as "high quality content." This change controls how posts are delivered to individuals. Sponsored posts are appearing more often as expected with Facebook's need to please shareholders. Twitter will likely follow suit as their strategy evolves after the IPO.
Individually, these changes aren't earth moving, but collectively, they show the need for positioning, connectivity, and optimization. Marketing by keywords and promotions won't work. Companies have to create content that highlights the company's expertise. Customers have to be so connected to the company that they look for the marketing messages. And, every digital marketing message has to be optimized for recipients and the bots determining visibility.
Tweaking the digital marketing strategy that worked in the past won't take your company into a solid future. A new strategy that focuses on identifying problems and providing solutions had to be developed and implemented. Every department in the company has to work together to create memorable customer experiences. It is a new marketing world. Are you ready?
For specifics on optimizing your email marketing messages for recipients and bots, check out 31 Ways to Supercharge Your Email Marketing.