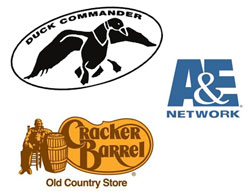 People choose your business for a reason. It may be convenience, service, quality, the "in" thing to do, or a combination. Knowing why your customers choose your company and how they want to be served is critical to creating a sustainable growth strategy. Without this knowledge, your marketing can do little more than fire shots in the dark.
Some companies create detailed personas to describe the people that patronize their business. Personas are an excellent tool for identifying target markets. They can be used for marketing, merchandising, and service. The key to using them well is to recognize that every business has multiple personas and there will always be exceptions.
What happens when companies don't know their customers?
The "Duck Dynasty" battle between network and reality show stars provides good examples on the importance of knowing your customers. It shows the power of knowledge and problems that can come with ignorance. Three brands took a position on a controversial issue. One had a good understanding of the customer base and effectively used it. The other two missed the mark. Please note that the purpose of reviewing this public drama is to look at lessons to be learned. The following is a recap for the handful of people who may have missed the drama that played out on every major news network and social media site:
Phil Robertson, the patriarch of the family that owns Duck Commander and stars in "Duck Dynasty", made controversial statements in a GQ interview. A & E, the network hosting "Duck Dynasty", suspended him after receiving complaints. An immediate backlash from viewers and fans followed the suspension. In the midst of the drama, Cracker Barrel posted this on the company's Facebook page:
It reads, "Cracker Barrel's mission is Pleasing People. We operate within the ideals of fairness, mutual respect and equal treatment of all people. These ideals are the core of our corporate culture. We continue to offer Duck Commander products in our stores. We removed selected products which we were concerned might offend some of our guests while we evaluate the situation. We continually evaluate the products we offer and will continue to do so."
The message was confusing.
If the company taking a position against Robertson's comments, why not pull all of the items? Cracker Barrel customers and Duck Dynasty fans were alienated by the post. They responded quickly. The company's Facebook page shifted from discussions on home style cooking to debates about freedom of speech. In less than 48 hours, this appeared on the Facebook page:
The full comment reads, "Dear Cracker Barrel Customer:
When we made the decision to remove and evaluate certain Duck Dynasty items, we offended many of our loyal customers. Our intent was to avoid offending, but that's just what we've done.
You told us we made a mistake. And, you weren't shy about it. You wrote, you called and you took to social media to express your thoughts and feelings. You flat out told us we were wrong.
We listened.
Today, we are putting all our Duck Dynasty products back in our stores.
And, we apologize for offending you.
We respect all individuals right to express their beliefs. We certainly did not mean to have anyone think different.
We sincerely hope you will continue to be part of our Cracker Barrel family."
Meanwhile, the controversy surrounding the comments continued to rage. A Facebook page supporting Robertson gained over 100,000 likes in a matter of hours. Thousands of people signed petitions to bring Phil back. The Robertson family responded to the suspension with this statement, "We are disappointed that Phil has been placed on hiatus for expressing his faith, which is his constitutionally protected right. We have had a successful working relationship with A&E but, as a family, we cannot imagine the show going forward without our patriarch at the helm. We are in discussions with A&E to see what that means for the future of Duck Dynasty."
A few days later, A&E reinstated Robertson with this statement, "As a global media content company, A+E Networks' core values are centered around creativity, inclusion and mutual respect. We believe it is a privilege for our brands to be invited into people's home and we operate with a strong sense of integrity and deep commitment to these principals.
That is why we reacted so quickly and strongly to a recent interview with Phil Robertson. While Phil's comments made in the interview reflect his personal views based on his own beliefs, and his own personal journey, he and his family have publicly stated they regret the "coarse language" he used and the mis-interpretation of his core beliefs based only on the article. He also made it clear he would "never incite or encourage hate." We at A+E Networks expressed our disappointment with his statements in the article, and reiterate that they are not views we hold.
But Duck Dynasty is not a show about one man's views. It resonates with a large audience because it is a show about family… a family that America has come to love. As you might have seen in many episodes, they come together to reflect and pray for unity, tolerance and forgiveness. These are three values that we at A+E Networks also feel strongly about.
So after discussions with the Robertson family, as well as consulting with numerous advocacy groups, A&E has decided to resume filming Duck Dynasty later this spring with the entire Robertson family."
In a nutshell, an outspoken character made a controversial statement. Two brands alienated their customer base by trying to distance their companies from the character. One brand read the currents well and emerged from controversy stronger.
The lessons to be learned are:
Know your customers better than anyone else. The Duck Commander family has a clear understanding of the people that love their products and characters. They used that knowledge as leverage against A&E.

When in doubt, wait. A&E and Cracker Barrel reacted quickly to the controversy. If they had waited before responding, it may have become a non-issue.
Don't straddle the fence. Cracker Barrel confused people by removing "selected products which we were concerned might offend some of our guests." If the selected products were offensive, why were they in a family friendly business?
Use knowledge of your customers to make business decisions. There will always be advocacy groups promoting their causes. Don't let the fear of outsider influence hurt your company's relationship with customers.
If you make a mistake, correct it quickly. Cracker Barrel responded quickly to customer and fan feedback. Reversing the company's position minimized the damage.
Know your customers well enough to anticipate their response. The response of Duck Dynasty fans and Cracker Barrel customers should have been anticipated. Judging from the online commentary, it appears the only ones surprised were A&E and Cracker Barrel.
Timing is everything. The response from the Robertson family came after their fans created supportive Facebook pages and petitions. There was minimal risk for the Robertson and Duck Commander brands.
For information on how to get to know your customers, email Debra at dellis@wilsonellisconsulting.com.